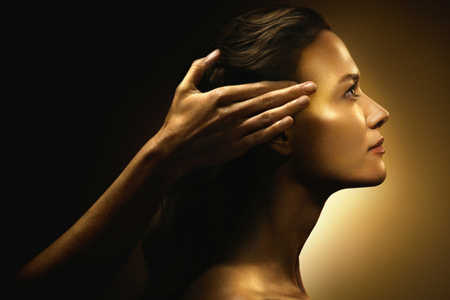 Aroma back relief 30mins | £29.50
The ultimate in relaxation – the back, neck and shoulders are exfoliated and then massaged with a warm aromatic balm to ease away stress and tension.
Tranquillity scalp massage 30mins | £25
Drift into a deep relaxtaion with this sublimely calming massage. All traces of tension are gently eased from scalp, décolleté, neck and shoulders and the soothing Essential Oils enhance the calming experience.
NEW Pure Bliss Signature massage
Our massage therapists have designed this unique massage which incorporates all our favourite moves from various massage techniques. A sensory test is carried out at the beginning to determine which oil will be used on your treatment journey.
Scent to Sleep - Our tranquillity blend includes English lavender, basil and jasmine to induce deep relaxation and help sleep problems.
Scent to De-stress - Our real luxury blend includes lavender, jasmine and Brazilian rosewood to reduce stress and restore well being. 
Scent to Uplift - Using our daily boost oil this lift uplifting blend of wild mint and mandarin balances your emotions for a more positive state of mind. 
Scent to Cocoon - Using safe pregnancy cocooning oil, mandarin, ylang ylang and chamomile help to soothe mother and baby. 
30 mins £28 | 45 mins £38 | 1hr £48 | 1hr 30mins £59.50
Deep tissue muscle energise massage
A deep tissue treatment designed to work on stiff, tight and fatigued muscles and joints. Combining the power of 100% pure aromatherapy oils and gels with a very specialised massage technique. Give your body the attention it deserves.
30 mins £28 | 1hr £47


Aromatherapy warm stone massage
Indulge your mind body and senses in this deeply relaxing massage with heated volcanic stones and aromatherapy oils. The ultimate in deep relaxation.
40 mins £38 | 1hr 15mins £58
Indian head massage £30


Reflexology £40


Aromatherapy Associates 'The Real Aromatherapy Experience'
Ease away the day's stresses and strains and bring body and mind back into balance, using the best of massage traditions from East and West. Carefully applied pressures stimulate the nervous system while Swedish and neuromuscular massage techniques support a healthy circulation and soothe the body.
30 mins £28 | 1hr £47 | 1hr 30 mins £59.50


Cancer
Touch
Therapy
Treatments
Made for life by Spiezia Organics treatments have been designed to create a true sense of well-being for the body, mind and emotions using 100% organic ingredients and a range of specialised relaxation techniques. The following treatments were created to also be suitable for people going through cancer. 
Hand on Heart (Back, Face & scalp Treatment)
This nurturing and calming treatment was created to allow you to drift away into a meditative state of relaxation. 
1 hr £48 | 1hr 25mins £59.50


Catch the breath (Back & Head Treatment)
Slow rhythmic movements on the back, shoulders and neck to provide a true sense of well being.
40 mins £38 | 1hr 15mins £58
Soothe & Nurture  (Organic)
A beautiful way to restore luminosity to the skin leaving you looking and feeling radiant. A deeply relaxing face and scalp massage calms the mind and soothes the soul.
30 mins £28