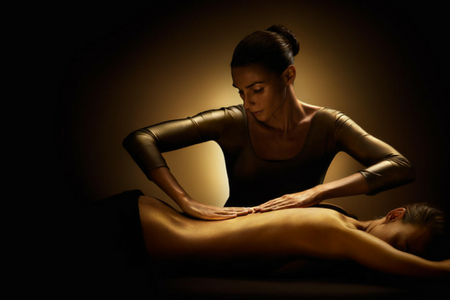 Purifying back cleansing & Treatment 45 mins
The back is often a neglected area, this complete treatment acts like a facial. A unique diagnostic massage combined with deep cleansing, purifying and balancing Essential Oils with decongest, hydrate and restore clarity leaving the skin clearer, brighter and healthier.
£40.00
Radiant Mum 2 Be  1hr 30mins
When you are about to become a mother you have many concerns, let Decléor take complete care of your skin throughout your pregnancy and for the first few months as a new mum. This nurturing treatment will help to preserve the tone of your skin, reducing the risk of stretch marks, lighten your legs and brighten your complexion to ensure you look as radiant as you feel. Bliss for mum & baby!
£59.50
Mum Indulgence Treat 1hr 30mins
Combining a divine body massage, tailor made facial and soothing mask, this rejuvenating and relaxing treatment has been specifically created for the needs of new mums. Decleor's products help ease backache, improve fluid retention and combat fatigue. Also leaves skin perfected and as soft as your newborn's.
£59.50
Universal Contour Wrap 2hr per wrap
A unique blend of mineral rich clay and specialist body wrapping techniques help cleanse and detoxify your body while actively compressing the soft fatty tissues, to create instant and lasting inch loss. Guaranteed to lose at least 6 inches and stay off for 30 days!
1 treatment £60 | Course of 3 £150